As intelligent bloggers and content marketers, we usually start with on-page SEO. However, one of the most important Google ranking factors is missing from your page. Rather, it's backlinks (off-page seo) from other websites pointing to your site. Google's top results have an average of 3.8 times more backlinks than results that appear in positions 2-10.
Off-page search engine optimization isn't just about building backlinks.
It goes deeper than that. For example, brand mentions (your site URL or brand name mentioned on another site without a hyperlink) are an integral part of off-page search signals.
Website – Stunning Looking Website
SEO – unlock massive amounts of SEO traffic. See real results.
Content Marketing – our team creates epic content that will get shared, get links, and attract traffic.
Paid Media – effective paid strategies with clear ROI.
Off-page SEO simply tells Google what other people think about your site. For example, if you have valuable links pointing to your pages, search engines will assume that you have great content that provides value to users.
People only quote, mention and share content they like. Even in a brick-and-mortar business, if your product is effective and affordable, you'll get a lot of word-of-mouth referrals from your existing customers.
If you're ready, I'm going to tell you everything you need to know about off-page search optimization.
What is Off-Page SEO?
"Off-page SEO" refers to all the activities you and others do away from your website to increase the page's ranking with search engines.
Although many individuals associat off-page SEO with link building, it goes beyond that. Many activities that do not establish a permanent link to other sites are important for off-page optimization.
On-page search engine optimization happens within the site, while off-page SEO happens off-site. If you write a guest post or comment for another blog, you are doing off-page site advertising.
How to prepare a Site/Page for Link Building?
Links are still very important to Google. In fact, no matter how useful, fresh or deep the content of any page is, Google cannot determine the value of any web page if there are no links pointing to it.
Site owners are often tempted to skip the initial preparation for building links. But it's important that you make it a priority because building a site will ensure that you're paying attention to the links you send them.
So how do you make sure your web pages are ready for link building?
Lay Out Your Internal Pages
Optimized internal pages can make a big difference in your overall ranking. This involves interlinking your pages using random keywords (with a heavy emphasis on your brand name).
According to Brian Dean's famous post "Google's 200 Ranking Factors", the number of internal links to a page indicates its importance relative to other pages on the site.
However, be careful when doing this. In a recent study, ChemRush found that 42.5 percent of websites have broken internal links.
To improve internal links, you should have silo pages that link to your category pages and sub-pages (posts). That way, when you send a link to the homepage, the juice flows through your category and subpages, increasing your search performance.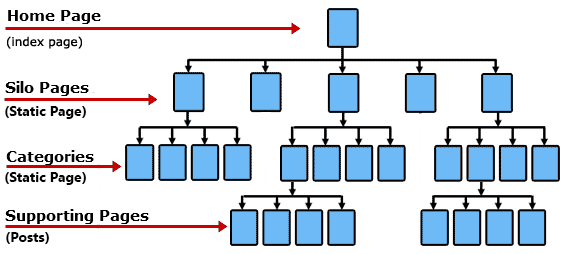 Smart SEO experts don't just throw links on a page. Instead, they set up pages so that each link sends SEO juice to other interconnected pages.
None of your internal pages should stand out.
Make each page an integral part of your site and add seamless navigation. This is essential for your site users and your appeal to search engines.
Ideally, pages covering the same or related topics should be grouped together to provide a better user experience.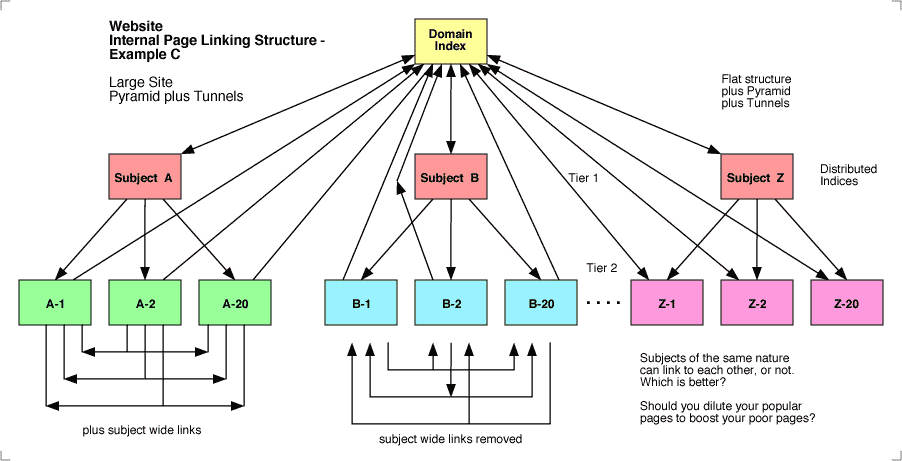 Internal pages are often overlooked in search engine optimization. Most SEOs and site owners don't realize that a site's "SEO value" flows from how the internal pages are structured.
This is usually possible when there are links from high-value pages on the same site. If you want healthy link equity between your internal pages, leverage your pages properly.
Remember it's not about the number of links you have. The quality of links to your internal pages is just as important as the structure of the pages.
In fact, sometimes reducing the number of links pointing to your internal pages can help your SEO efforts.
For intance
CMS North America, had an established website with 170 indexed pages. However, the site did not generate significant search traffic.
By auditing their site using the Internal Link Juice tool, they discovered that the site had 168 links pointing to the home page.
This was more than best practices, especially a problem when the SEO juice from those links wasn't going to internal pages.
They launched a new navigation structure and removed some links that point to silo pages, while retaining links that support usability (such as the "Contact Us" and support pages). In total, 70 links were removed.
After 6 weeks of rebuilding internal pages links and home page, most of the new pages and links were re-crawled by Google's spider.
The company saw improved rankings for 18 of the 21 key phrases the site targeted. Keywords that were already ranking on page 2 improved an average of 3.7 ranking spots.
Do Basic On-page SEO First
On-page search engine optimization is important. After all, Google doesn't want your site to be seen as an ignored portal.
I'm sure you've heard enough about meta tags and keyword density. However, there are other important SEO factors that are often overlooked. This on-page SEO infographic from Backlinko provides many of them for you:
One of the reasons many authority sites no longer dominate the top organic listings is because they ignore basic on-page SEO.
You should link to your internal pages using a keyword that best defines that page.
When you create a homepage that you want Google to rank highly, you want to send more SEO juice from your important pages to that page.
If a search engine company looks at a lot of pages on your site for a particular search term and doesn't know which page to rank higher than the others, you'll struggle to increase your search engine rankings no matter how much value you provide.
And that is the basic on-page search engine optimization process. There is no magic secret formula. Make sure your pages are well structured, your keywords are mentioned, and signals are being sent to Google appropriately. This will work towards improving your search engine ranking.
Here's an example:
Daily Mail Online, a popular online magazine that ranks highly for many keywords, failed to dominate the top lists during the 2014 World Cup. Other brands took their places:
The online magazine missed this opportunity to attract thousands, if not millions of search users, due to sheer enthusiasm for the competition (with a peak on June 18).
Daily Mail Online misses the word "World Cup" as many brands dominate Google's first page rankings. Every new article published about the World Cup was overlapped with the Daily Mail's front page, which they desperately wanted to rank better than the other pages (shown in pink).
What happens here is that the search engine company Daily Mail looks at many pages online for this search term and doesn't know which one should rank higher.
It has a lot to do with internal page linking, or lack thereof.
Mail Online could have linked back to the hub page from each internal page (especially those related to 'Word File') to take advantage of a popular search term at the time.
This would have been a strong signal to Google that the page is relevant and useful to users.
Unfortunately, the Daily Mail had plenty of opportunities to link back to the hub from related blog posts and pages, but they didn't.
Pick Thematic Keywords, Even for Off-page SEO
While links are still the icing on the cake, the keywords you choose are the driving force behind SEO progress that controls all other factors.
Keywords are the basic building blocks for your content campaign. In the graph below, a more accurate view of on-page SEO shows that the use of related keywords and primary keywords account for 7.5% and 40% of on-page SEO, respectively.
But not all keywords are created equal. If you want to improve your odds of driving organic traffic to your site, you need to choose thematic keywords.
The word "subject" means having or relating to a particular subject.
So when you choose keywords, focus on the ones that are related to the specific topic. You can't cast your net too wide.
Here is an example:
Let's say your business offers WordPress theme customization services. It is important to find the right relevant keywords that you can create content for.
Insert your keyword (WordPress theme customization) into the Ubersuggest search bar. Click the "Search" button. Insert your keyword (WordPress theme customization) into the Ubersuggest search bar. Click the "Search" button. Here are the thematic key phrases in the results:
Remember that you are in business to help others. By knowing the words, phrases and search terms they use in their searches, you can easily tailor your content to meet their needs.
You can supercharge the power of your keywords by switching to branded keywords. In other words, instead of targeting "SEO tips," you can include your brand or domain name (eg, Moz SEO Tips, Neil Patel SEO).
Domain or brand specific keywords usually bring up multiple results from the same site in Google search results.
Of course, you need to create useful, high-quality content. When you see more of your pages ranking in Google search results, it doesn't matter what position those pages are in – you can send them extra link juice with any of the link building strategies below:
Branded thematic keywords give you an edge over the competition and act as a leading SEO technique. No matter how many top brands dominate the top 10 organic listings, you'll find yourself driving motivated visitors to your site.
When you target keywords in on-page optimization, don't repeat those keywords.
Instead, use synonyms or Latent Semantic Index (LSI) terms. LSI keywords have a purpose – to help search engine spiders extract meaning from ordinary keywords (especially those with more than one meaning). For example, Apple, the computer company vs. Apple, the fruit.
Ideally, if you're writing content on a topic related to Apple, Google expects you to mention relevant terms and terms common to the company.
Avoid mentioning your primary keyword (eg cheap flight tickets) in your content. Google will consider it an exaggeration and may penalize you.
You may wonder how you can find these synonyms. The good news is that there are many tools you can use to research LSI search terms.
Follow these steps:
Step#1: Go to Ubersuggest and enter your keyword (eg cheap flight tickets). Click the "Search" button.
Step#2: Click on "Keyword Ideas" in the left sidebar.
Step#3: Review the Keyword Ideas
Step#4: Choose Keywords
Choose keyword phrases with high search volume, a low SEO difficulty score, and high CPC.
The final step is getting a better idea of what you need to do to outrank your page one competitors.
In summary:
On-page keyword optimization all boils down to researching, choosing, and integrating keywords that you can easily rank for. You don't want to compete with top brands with higher and stronger domain authority.
That's why you should also focus on long-tail keywords. You already know how to find and use long tail keywords to improve your SEO rankings.
How to Get Relevant, Authority, and User-Friendly Backlinks
In January 2022, Google processed 12.1 million search queries. If you can capture just a small fraction of those searches, think of all the potential traffic your website could get. How?
As we already know, backlinks are currently the most important off-page SEO factor.
This is because natural links from authoritative and relevant websites act as an independent "vote of trust" that helps search engines trust your website more.
As Google's search spider crawls your site, looking for new content (sometimes depending on your sitemap settings), it indexes your new pages and makes them ready for search users.
Google uses a number of algorithmic factors to determine where your pages will rank after being included in its broader index to return them in search results when relevant search queries are triggered.
In the world of SEO, it is refered to these as Google's ranking factors. Those are the factors that determine organic web page rank. Fortunately, you don't have to memorize all of the ranking factors. This is great news because there are hundreds of them.
But links are the most important factor as far as SEO is concerned. Well, not links, but the impact of such links. Some other off-page factors are:
In the past, if I built 100 links to my page and you only had 20 links, Google would view my web page as more authoritative and valuable than yours.
At that time the quality of the connection is not so important.
But today, connections are perceived differently. A great deal of inquiries emerge when Google sees a connection highlighting your page. For example:
Where does the link come from?
What prompted the site owner to link to you?
What is the quality of the connection? (I mean, does it come from an authority figure?)
How new is your link?
How normal is your connection profile?
And many more…
When building links to your site or internal pages (which is great in today's SEO), focus on relevant, authoritative and SEO-friendly links.
Off-Page SEO FAQ
What is off-page SEO?
Off-page SEO includes any signals that tell Google and other search engines that your site is valuable to your audience. An example is inbound links.
What are some off-page SEO elements?
Links, reviews, company information, video, social media profiles and visitors
How do keywords affect off-page SEO linking?
There are many attributes that go into the value of keywords in off-page SEO links, including user experience, primary keyword usage, and value/depth of content surrounding related keywords and topics.
Recent Post links